I entered my bridge picture from a couple posts ago in a fall photo contest make sure to go and vote for it later this week here: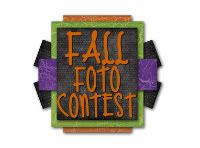 I love it, but I am a little partial, but I need YOUR vote in order to win! So hop on over to
GI Joe's Wife
and when she posts my pretty picture, VOTE!!
Speaking of photos, what does everyone think of me doing a 365 day photo challenge? I would like to improve my photography skills, so I am thinking that on Jan 1st, I will start taking and posting 1 photo a day (well, I MAY cheat and take a few good ones one day and post them at the end of each week, depending on my schedule) however, the goal is to grow in my hobby, keep you entertained, and maybe even get some great shots along the way. let me know what you think!